Psyche Coin is a faster growing and user-friendly cryptocurrency that has already made a boom in the DeFi market. Easy accessibility and advanced technology are the key focus to their higher success rate.
"Success is the result of perfection, hard work, learning from failure, loyalty, and persistence"

Colin Powell
Defi Staking
Cryptocurrencies are widely used around the world. Recently, staking is becoming popular. Staking is similar to mining which is known as Proof-of-Stake or PoS in the blockchain. Anyone can take part in transaction validation using cryptocurrencies and earn Staking rewards. It is like investing or trading cryptocurrencies for a long time to earn a handful of money feasibility to gain success just by sitting at home. With Psyche Coin, staking will be more resourceful and interesting.
Crypto staking is the same as keeping a fixed deposit into a bank and getting a certain amount in return as interest. In cryptocurrency, you lock your coins in a wallet for a longer period and you will get rewards added to your wallet. As fixed deposit makes a decent source of income, staking can be added to the list of passive income plan. All you need to do is keep some coins stagnant.
For too long wealth has stayed concentrated in the hands of a few without trickling down to the hands of the many. Too many people live without access to the money that they need to pursue their purpose and improve their lives.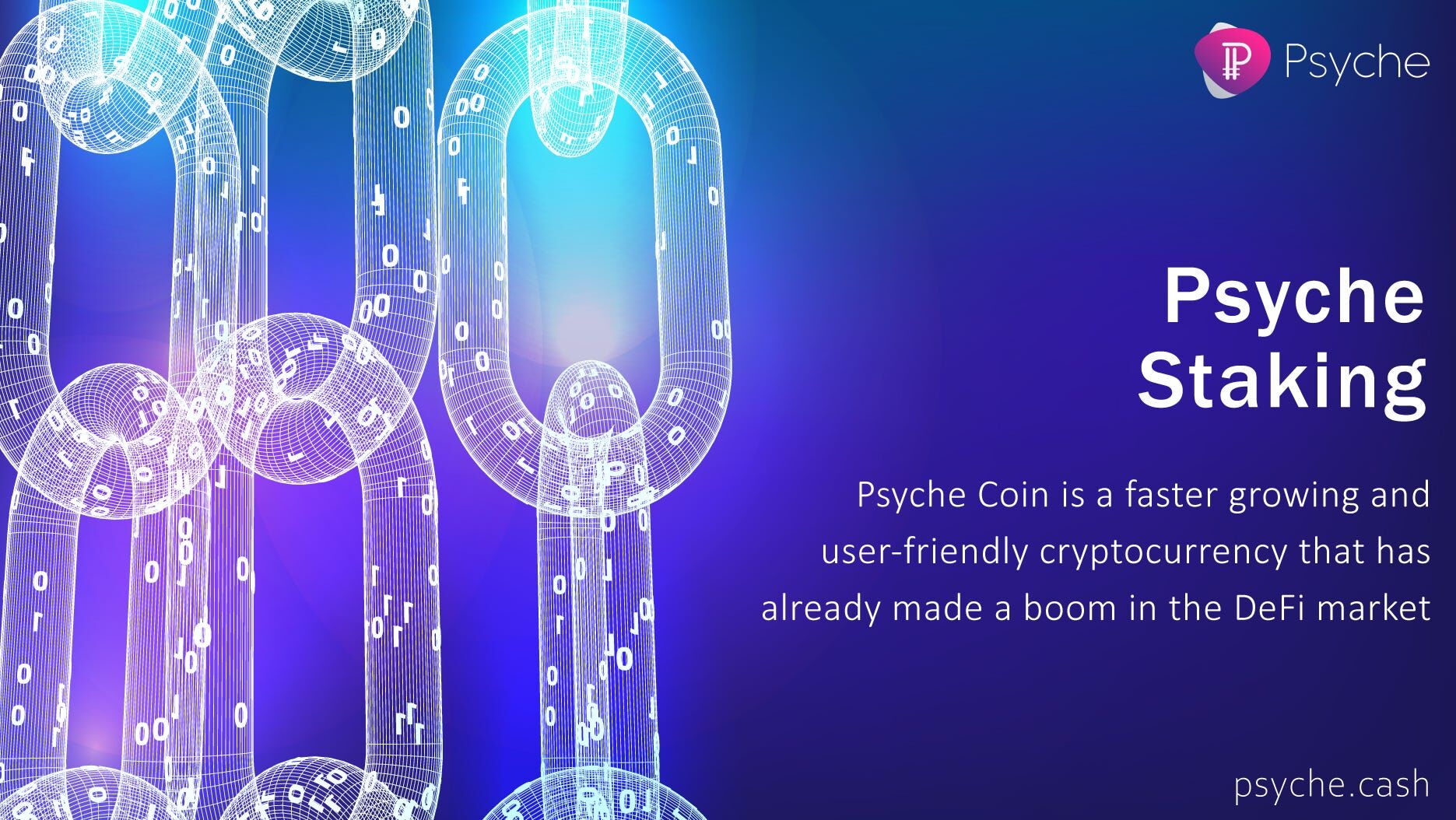 Psyche Coin is Up for Staking Now!
The key point to purchase cryptocurrency is evaluating the execution of trading for an increased value. Not every cryptocurrency indulge tokens to offer staking rewards. So, before starting, you will need to choose a token that has a trusted validation and will give you a return at the highest possible rate based on your investment. From that perspective, you can rely on Psyche Coin. Staking with Psyche will lead you to success as a retail investor.
Psyche Coin is a faster growing and user-friendly cryptocurrency that has already made a boom in the DeFi market. Easy accessibility and advanced technology are the key focus to their higher success rate. Apart from revolutionizing blockchain technology, Psyche Coin has initiated staking. Unlike the transaction process, the staking process also remains convenient for every user. You need to follow this simple method to take part:
For staking, you will need to sign to register the desired transaction amount with the wallet user using MetaMask or you can also send $5 ETH to the assigned wallet. Make sure, the ETH must come from the same wallet that you have registered for staking. You can also register for stake from the Psyche App. $5 ETH is required to sign the transaction.
As soon as you start staking, it would be better not to use your Psyche Coins in the specific. Take note that, if the USD balance drops, it may have impacts on the rewards.
Reward: You will get the distributed reward right after passing the 720 hours (30 days) of staking.
Choosing Psyche is Resourceful
Psyche is an algorithm base coin, which means it will control the supply and demand to keep the price stable. Hence, every month it will generate an allocation for the staking, which will be distributed equally in contrast to the holding percentage.
Choosing Psyche Coin for staking is definitely resourceful and adds some benefits as well:
Get 4% to 8.33% profit per month, staking base.
Don't need to know coding language or any sort of technical knowledge.
The staking process is simple and easy.
Does not require private keys.
You don't have to send Psyche Coins anywhere.
There will be no contract to lock the coins.
You will have peace of mind for keeping the coins with you
Psyche is making a difference managing a resourceful cryptography network emphasizing easy adaptation improvising advanced technology. The journey started with the goal to ensure security, transparency, freedom, and easy accessibility by reducing cost, time, and complicacy. With the dedication of building a developed and convenient DeFi system, Psyche aims to inspire non-technical people to step into the crypto world to digitalize currency and make passive income.
Staking with Psyche Coin can be the best solution you can have to intensify income growth. It gives you the freedom to make an asset out of investment and that too by staying home with cryptocurrency. Without thinking much, take the decision and start staking cryptocurrency with Psyche Coin. For a profitable, decent, and positive earning source, Psyche is the most reliable and stable solution you can ever have!